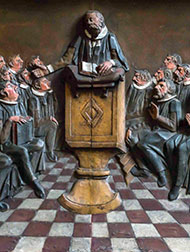 History & Heritage
Guts & Glory in Clerkenwell Tour with Look Up London
It takes guts to try and change the world.
For hundreds of years on The City's 'smooth fields', people died – often excruciatingly – for what they believed in.
Join Katie for a walk through the narrow alleys of Smithfield and Clerkenwell in search of these martyrs and rebels. On your way you'll be looking up to spot the area's hidden history, finding plague pits, forgotten pubs and dramatic tales!
The walk will include entrance to St Bartholomew the Great, one of the oldest and most atmospheric churches in all of London.
Our charming little hotel on the edge of London's central business district, is just five minutes' walk from this ancient monastery, converted into a Tudor mansion, and now home to a group of elderly "Brothers" who live as a secular community.
Tucked away behind a high perimeter wall, the Charterhouse, founded in 1348 and enlarged steadily throughout the centuries, had always been intensely private – impossible to enter, in fact. But you can now discover the secrets of London's oldest and most picturesque 'living' heritage site by joining a discreet guided tour.