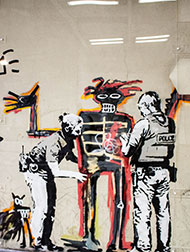 Art & Culture
An icon of Brutalist architecture, the Barbican has always been controversial. Voted 'London's ugliest building' in 2003, among design aficionados it's one of the UK's architectural treasures.
In 2001 the entire complex received Grade II listed status. Today you can explore the site freely, from the Centre's many public spaces, cafes and restaurants to the highwalks and estate gardens.
Barbican has an innovative international programme that crosses art forms, collaborating with organisations from around the globe to give audiences opportunities to experience outstanding work by acclaimed international companies and artists.
A treasure trove of eclectic objects, collected by celebrated architect Sir John Soane, from his travels around the world. The house is preserved exactly how he left it after his death in 1833 and has to be seen to be believed. Fully plumbed and with flushing toilets, Soane's house was luxurious for its time. But he stipulated that the lid on his bathtub remain sealed up until 1896 (59 years after his death). When it was eventually lifted – with great ceremony – all that was found inside was junk, including papers and false teeth. Victorian newspapers speculated this was Soane's strange idea of a joke.