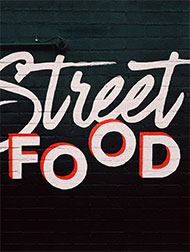 For Food Lovers
Join Celia Brooks to discover the secrets and delights of London's oldest and most renowned food market. Explore the huge range of exceptional British and international produce available and learn all the fascinating facts about the Market's rich history.
Kicking off with a meet and greet session over drinks and pastries at a chic restaurant within the Market, you'll then accompany Celia for an exclusive tasting tour.
As a passionate food expert, Celia will show you the best that Borough has to offer and lavish you with bespoke tastings of the unique foods and wines on offer here. You will taste an array of treats, including rare breed meats, fine cheeses from Britain and beyond, superfood juices, fresh scallops, olives and antipasti, homemade Turkish meze, plus many more, whilst hearing the stories behind the creation of these fabulous artisan foods. A tutored wine tasting is also included in this this educational, delicious and demystifying Borough Market experience.
From London's original Jamon Bodega to a uniqueJapanese bakery, Maltby Street may not the biggest market, but what it lacks in size, it makes up for in food glorious food. A tightly curated set of some of the city's best street food vendors is all it takes to make your tastebuds sing. Just make sure you turn up hungry!
Doughnut Making with Bread Ahead
In this workshop, one of Bread Ahead's Master Bakers will show you how to turn a few basic ingredients into delicious desserts of the finest calibre.
You will be guided through the process of making doughnuts from start to finish and will leave with 'custard grenades' you've produced yourself!
This workshop is suitable for all levels of experience and runs for 2 hours. £90 pp