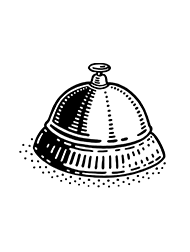 Arrival
"A gentle word, a kind look, a good natured smile can work wonders and accomplish miracles"
– William Hazlitt
We expect to be able to announce our reopening date at the start of December. Although our smiles may be hidden by our masks, and we cannot extend a handshake, we will be thrilled to see you. As we all adapt to this new way of working, it's inevitable that things will look a little different. Be assured that these changes will not affect who we are. You can expect the same usual, warm, friendly, witty and charming service that is at our very core.
– In order to minimise contact, we encourage contactless payment.
– Hand sanitiser will be freely available in all public areas for our staff and guests to use.
– Our guests will be provided with an amenity kit to include hand sanitiser and disinfectant wipes.
– We will, of course, adhere to social distancing measures, and therefore our guests are not expected to wear face masks. They will however be available on request.
– Our employees are receiving rigorous training in all the new protocol and procedures.
– All employees must strictly comply with these protective measures, recommended by the governing agencies. The measures include hand hygiene, wearing masks if mandated, and social distancing.
– Employees will also be asked to stay home and seek medical attention if they, or someone in their household, has any COVID–19 symptoms.